Article paru dans l'édition spéciale Business Yearbook 2020 de Business Magazine de mars 2020
Texte écrit à la demande de la journaliste Dooshani Seewoolall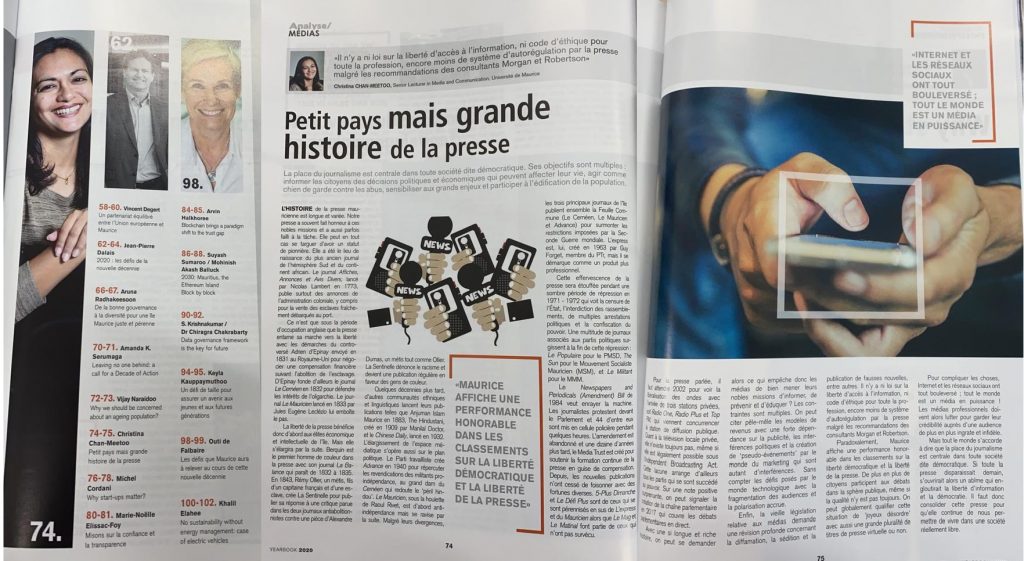 La place du journalisme est centrale dans toute société dite démocratique. Ses objectifs sont multiples: informer les citoyens des décisions politiques et économiques qui peuvent affecter leur vie, agir comme chien de garde contre les abus, sensibiliser aux grands enjeux et participer à l'édification de la population. L'histoire de la presse mauricienne est longue et variée. Notre presse a souvent fait honneur à ces nobles missions et a aussi parfois failli à la tâche.
Elle peut en tout cas se targuer d'avoir un statut de pionnière. Elle a été le lieu de naissance du plus ancien journal de l'hémisphère sud et du continent africain. Le journal Affiches, Annonces et Avis Divers, lancé par Nicolas Lambert en 1773, publie surtout des annonces de l'administration coloniale, y compris pour la vente des esclaves fraîchement débarqués au port.
Ce n'est que sous la période d'occupation anglaise que la presse entame sa marche vers la liberté avec les démarches du controversé Adrien d'Epinay envoyé en 1831 au Royaume Uni pour négocier une compensation financière suivant l'abolition de l'esclavage. D'Epinay fonde d'ailleurs le journal Le Cernéen en 1832 pour défendre les intérêts de l'oligarchie. Le journal Le Mauricien lancé en 1833 par Jules Eugène Leclézio lui emboîte le pas.
La liberté de la presse bénéficie donc d'abord aux élites économique et intellectuelle de l'île. Mais, elle s'élargira par la suite. Berquin est le premier homme de couleur dans la presse avec son journal La Balance qui paraît de 1832 à 1835. En 1843, Rémy Ollier, un métis, fils d'un capitaine français et d'une esclave, créé La Sentinelle pour publier sa réponse à une critique parue dans les deux journaux anti-abolitionnistes contre une pièce d'Alexandre Dumas, un métis tout comme Ollier. La Sentinelle dénonce le racisme et devient une publication régulière en faveur des "gens de couleur".
Quelques décennies plus tard, d'autres communautés ethniques et linguistiques lancent leurs publications telles que Anjuman Islam Maurice en 1883, The Hindustani, créé en 1909 par Manilall Doctor, et le Chinese Daily, lancé en 1932. L'élargissement de l'espace médiatique s'opère aussi sur le plan politique. Le Parti Travailliste crée Advance en 1940 pour répercuter les revendications des militants pro-indépendance, au grand dam du Cernéen qui redoute le 'péril hindou'. Le Mauricien, sous la houlette de Raoul Rivet, est d'abord anti-indépendance mais se ravise par la suite. Malgré leurs divergences, les trois journaux principaux de l'île, publient ensemble la Feuille Commune (Le Cernéen, Le Mauricien et Advance) pour surmonter les restrictions imposées par la deuxième guerre mondiale. L'express est, lui, créé en 1963 par Guy Forget, membre du PTr, mais il se démarque comme un produit plus professionnel.
Cette effervescence de la presse sera étouffée pendant une sombre période de répression entre 1971 et 1972 qui voit la censure de l'Etat, l'interdiction des rassemblements, de multiples arrestations politiques et la confiscation du pouvoir. Une multitude de journaux associés aux partis politiques surgissent à la fin de cette répression: Le Populaire pour le PMSD, The Sun pour le Mouvement Socialiste Mauricien (MSM), et Le Militant pour le MMM.
Le Newspaper and Periodicals (Amendment) Bill de 1984 veut enrayer la machine. Les journalistes protestent devant le Parlement et 44 d'entre eux sont mis en cellule policière pendant quelques heures. L'amendement est abandonné et une dizaine d'années plus tard, le Media Trust est créé pour soutenir la formation continue de la presse en guise de compensation. Depuis, les nouvelles publications n'ont cessé de foisonner avec des fortunes diverses. 5Plus Dimanche et Le Défi Plus sont de ceux qui se sont pérennisés en sus de L'express et du Mauricien alors que Le Mag et Le Matinal font partie de ceux qui n'ont pas survécu.
Pour la presse parlée, il faut attendre 2002 pour voir la libéralisation des ondes avec l'arrivée de trois stations privées, soit Radio One, Radio Plus et Top FM, qui viennent concurrencer la station de diffusion publique. Quant à la télévision locale privée, elle n'existe toujours pas même si elle est légalement possible sous le Independent Broadcasting Act. Cette lacune arrange d'ailleurs tous les partis qui se sont succédés au pouvoir. Sur une note positive surprenante, on peut signaler la création de la chaîne parlementaire en 2017 qui couvre les débats parlementaires en direct.
Avec une si longue et riche histoire, on peut se demander alors ce qui empêche donc les médias de bien mener leurs nobles missions d'informer, de prévenir et d'éduquer? Les contraintes sont multiples. On peut citer pêle-mêle les modèles de revenus avec une forte dépendance sur la publicité, les interférences politiques et la création de 'pseudo-événements' par le monde du marketing qui sont autant d'interférences. Sans compter les défis posés par le monde technologique avec la fragmentation des audiences et la polarisation accrue.
Enfin, la vieille législation relative aux médias demande une révision profonde concernant la diffamation, la sédition et la publication de fausses nouvelles, entre autres. Il n'y a ni loi sur la liberté d'accès à l'information, ni code d'éthique pour toute la profession, encore moins de système d'auto-régulation par la presse malgré les recommandations des consultants Morgan et Robertson.
Paradoxalement, Maurice affiche une performance honorable dans les classements sur la liberté démocratique et la liberté de la presse. De plus en plus de citoyens participent aux débats dans la sphère publique, même si la qualité n'y est pas toujours. On peut globalement qualifier cette situation de 'joyeux désordre' avec aussi une grande pluralité de titres de presse virtuels ou non.
Pour compliquer les choses, Internet et les réseaux sociaux ont tout bouleversé. Tout le monde est un média en puissance. Les médias professionnels doivent alors lutter pour garder leur crédibilité auprès d'une audience de plus en plus ingrate et infidèle.
Mais tout le monde s'accorde à dire que la place du journalisme est centrale dans toute société dite démocratique. Si toute la presse disparaissait demain, s'ouvrirait alors un abîme qui engloutirait la liberté d'information et la démocratie. Il faut donc consolider cette presse pour qu'elle continue de nous permettre de vivre dans une société réellement libre.