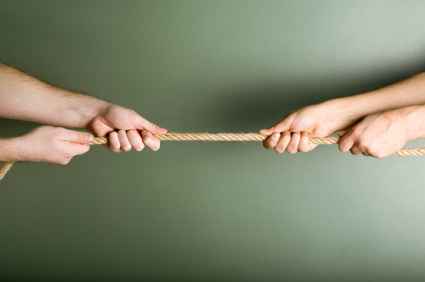 Why do I have this uneasy feeling that we ordinary people are caught in the middle of a serious egocentric war between our power elites? That our democracy, though good in comparison with other nations on the continent, direly needs to be rebooted? That the system seems clogged with viruses?
Latest episode in the saga: the Sentinelle vs. Government tug of war with the decision by Pravind Jugnauth (DPM, Minister of Finance and MSM leader) to bar access from his press conference in the government house to all journalists from L'express and 5 Plus Dimanche (of the Sentinelle group) and from Radio One (of Viva Voce company which is partly owned and managed by La Sentinelle).
There has been an avalanche of articles in L´express which have traced back the punitive actions against the media group to 2006, with the advertisement boycotts from government and parastatal agencies, then with the tense relationship with the MSM which is now in alliance with the Labour party, then with the coverage of elections this year. It is a very complex affair which intertwines personal conflicts (Jean Claude de L'Estrac and Raj Meetarbhan vs. Navin Ramgoolam and Pravind Jugnauth) together with institutional (Sentinelle vs Government and its agencies, private sector vs government) and national inter-ethnic dimensions (Franco/Creoles vs. Hindus). This is where it becomes dangerous as we ordinary people are called upon to take sides without being given the full picture.
What is it that went sour in the relationship between the boss of L'express and the PM? In fact, how come they had such an intimate relationship at all? Why is the MSM so angry against JCDL and what does JCDL have to hide about the Jugnauths? There are so many questions to be asked and it looks like we will not be getting answers soon.
Personally, I am not taking anyone's side. Rather I am taking the side of democracy. And I feel that both parties have done wrong to our democracy. On the one hand, L'express did not provide neutral and independent coverage of elections (just like Le Matinal and Le Dimanche). On the other, the Labour Party/MSM alliance has used its authority to try to stifle the private press (just like the MMM did in the past).
But, government has gone too far this time. Banning journalists from a press conference is a direct attack to press freedom. I hope this does not go any further and that they will recollect their senses and stop this escalation…
Hereunder a collection of links to articles which were published in the written press recently:
– Ce que je sais by Jean Claude de l'Estrac
– Ramgoolam, pile et face by JCDL
– Délits d'opinion by JCDL
– Faux démocrates by Raj Meetarbhan
– Boycott de la presse : Navin Ramgoolam répond au Dr Philippe Forget
– Cette grande presse partisane… by Subash Gobine
– Maladresses by SG
– Boycott ? by Kiran Ramsahaye
– Le Mauricien Opinion: Nous condamnons…
– Week-End Opinions : Délire liberticide et Ça sent la banane…
– Mauritius Times: Freedom of Expression and Media Censorship
– NewsNow: Did I hear you say Mobutu? by Sydney Selvon
Addendum: list of publications whose editors/columnists have condemned the press conference ban (please let me know if the list is incomplete):
– Le Mauricien
– Week-End
– Samedi Plus
– Business Magazine
– Mauritius Times
– Le Défi