Media regulation was debated on 17th November on an MBC TV show called
Focus
with former journalist and editor-in-chief of L'express-Dimanche,
Rabin Bhujun (now director of a company that trains company executives on how to deal with the media)
, former editor-in-chief of L'express, Raj Meetarbhan (now Senior Adviser at PMO) and Abadallah Goollamallee, a CTI lecturer.
I was asked by MBC journalist
Kavin
Tapesar
for a pre-recorded interview to be included as an insert in the show but it was too short-noticed given that I had much work to do at the time.
Watching the replay of the show prompted me to read again my past papers on the topic from 2011 and 2013. Basically, no progress has been made so far in Mauritius on this issue and what I wrote at the time is still valid.
Here are the papers for those who wish to read through:


The two commissioned reports which were cited during the show are:
A Press Council for Mauritius? Safeguarding Freedom, Responsibility and Redress for Mauritius and its Media by Mr Kenneth Morgan, former member of the UK Press Council, which was commissioned by the Media Trust in 1998.
Media Law and Ethics in Mauritius. Preliminary Report by Prof Geoffrey Robertson QC, which was commissioned by the government in 2013.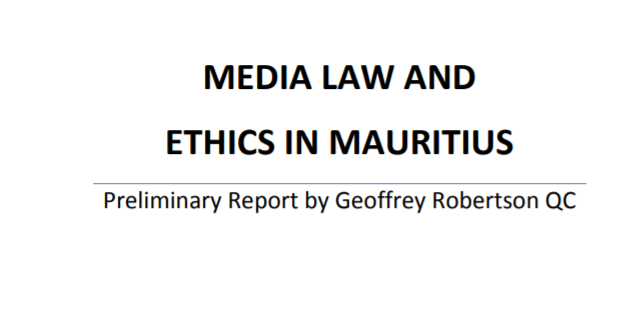 The Robertson report was an extensive 80-page report so people tend to forget that it was only a preliminary version which was released in April 2013. As he wrote in his address to the then PM Navin Ramgoolam in his preamble, his idea was to come back later in the year and have discussions that would help fine-tune his recommendations. He stated that he wanted broad consultations that would have to include multiple stakeholders (such as "media, lawyers and judges, MPs, civil society and members of the public"). This is what he wrote:
It is a large project, but I have done my best to present these provisional conclusions in non-technical language and at reasonable length. They are not set in stone. I hope that the publication of the report will be followed by a period of discussion and debate over its proposals, amongst the media, lawyers and judges, MPs, civil society and members of the public. I will be happy to return later in the year, after considering all responses, to make a final set of legislative proposals.
Unfortunately, no final version was made public as the government probably didn't like the content of the preliminary report given that they had only envisaged the setting up of a regulatory system for the media whereas the consultant went well beyond this single requirement (more details below). The PTr-led government was very unhappy with the press at the time and regularly alluded to the need to set up a Media Commission to tighten control. This is not the first time a party in power has expressed strong dissatisfaction and threatened to introduce stricter regulations for the media (recall the MMM which was in government after liberalisation of airwaves in 2002) and it is certainly not the last (including the current MSM-led government). Suffice to say that all parties have the same critical attitude to the press when in power and then, magically, become the strongest defenders of the media when in opposition (before becoming staunch critics again when getting back in power, which invariably happens due to the "alternance" in our political configurations).
Interestingly, our local media have rarely (not to say never) advocated for the release of a final version of the Robertson report up to now, nor for its application, as there are some elements which they probably didn't like as well. They have mostly tended to focus only on the introduction of Freedom of Information legislation albeit without any in-depth reference to the details of such a legislation, using the claim only as a cry of rally against government. Status quo  thus seemed preferred by them with regards to media regulation and laws impacting their operations.
In essence, Robertson made three broad proposals which would have to be introduced in a comprehensive manner for a more balanced and healthy media environment in Mauritius:
Review laws that impact media operations such as sedition, defamation, publising false news, contempt of court [an interesting case in this respect being the Dooharika (may he RIP) case where Privy Council overruled a judgement against him and he was represented by Robertson himself], all of which date back to colonial times with sometimes obsolete provisions or fines.
Introduce Freedom of Information legislation to ensure transparency and facilitate the work of journalists (and thus review the Official Secrets Act).
Introduce media regulation through a national code of ethics for the media and also an institution (a Media Commission) to oversee its application (he suggested revising the mandate of the Media Trust as a possible option).
Rodertson also put emphasis on the need for a comprehensive approach rather than a pieceameal reform:
In my lecture on Developments in Media Law, delivered in the Sir Harilal Vaghjee Memorial Hall, I expressed the view that Mauritius would benefit from a new and comprehensive media law rather than piecemeal reform.
The contents of the report are part of the topics which I teach in a module called Media and Ethics in the Journalism course at the University of Mauritius.