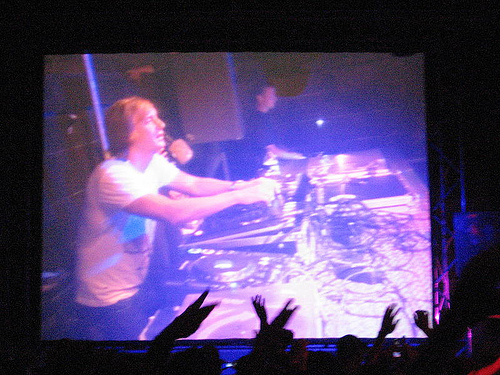 As you must have seen on Avi's blog, we went to David Guetta's concert on Saturday. It had been ages since we last went to a concert… And we did feel like old thirty somethings amongst the teenagers and twenty-somethings in the beginning 😉
But, it was a cool party that really rocked. After a tricky climb up the slopes of the fort (I pity the girls who wore high heels and been to the hairdresser, with complete make-up and oh-so dressed up!), we had to get through compact crowds to pass the numerous check-points and security check (not for the girls though!) and finally get a silly stamp on the arm (whose disappearance for Avi led to a silly little incident with an overzealous security guy…)
Inside, the setting was nice with a special wooden dance floor (sometimes I feared it would collapse under the stomping!), some sail-like decorations, two large screens and special lights. The local DJ who did the first part, David Jay, was OK but Guetta was of course miles ahead. Since, I'm not very tall, I couldn't see much of what he was doing but Avi says it was marvellous to look at his hands fumbling on the control boards (is that what they call it?).
Anywayz, we danced like we were young again… And came back home at around 3.15 in the morning to free Dada and Dadi who had been entrusted with Anya and Kyan. In fact, that was our first night out without the kids since their birth!
No need to tell you how tired we felt the next day, specially having to look after the kids who did not feel at all like having a nap (which we badly needed). Our eardrums were also KO for almost 24 hours; I could hear a buzz in my left ear till the day after! My big toes also ached a bit coz a guy and a girl jumped on them! Plus all the joints as well. Could it be that I'm getting old????