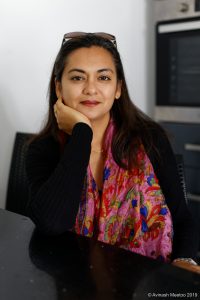 I am a Senior Lecturer in Media and Communication Studies at the Faculty of Social Sciences and Humanities (FSSH) of the University of Mauritius since 1999. I am also the Head of the Mediacom Studio.
When I arrived, there was only a part-time diploma course in Communication Studies. I launched the BSc (Hons) in Communication Studies in 2001 and the BSc (Hons) in Journalism in 2011.
I manage the Mediacom Studio, an audiovisual and multimedia facility which I set up in 2008 for the training of Journalism and Communication students at UOM thanks to funding from the UNESCO agency IPDC.
In 2006, I created a blog called UOM-Communication Studies for Journalism and Communication students where I post all my supporting material for lectures and relevant announcements.
My areas of interest include cultural studies, film theory, journalism and new media with a particular focus on press freedom, media regulation, and gender-sensitive reporting. I am the author of two books, 'Media Ethics and Regulation. Insights from Africa' (May 2013) and 'Enhancing Democratic Systems: The Media in Mauritius' (August 2011), as well as numerous research articles. I am also involved as a collaborator on the Mauritian Creole Dictionary (Diksioner Morisien) and the forthcoming Rodriguan Kreol Dictionary. I am a member of the Board of the Creole Speaking Union.
I am married to Avinash, a Computer Scientist and we have a daughter Anya, born in 2002, and a son Kyan, born in 2004.
I may be contacted at the following addresses: ,  or