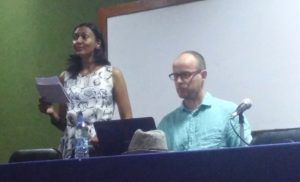 Quand l'hindouisme est créole. Plantation et indianité à l'île Maurice.
When Hinduism is Creole. Plantation and Indianness in Mauritius.
A talk by Mathieu Claveyrolas from the Centre National de la Recherche Scientifique (CNRS) and L'Ecole des Hautes Etudes en Sciences Sociales (EHESS), facilitated by Ramola Ramtohul (both in the above picture).
This talk was hosted at the University of Mauritius on Wednesday 19 April 2017 and was based on a forthcoming publication. Mathieu Claveyrolas has been doing research on Hinduism for a number of years in India and Mauritius.
———————
Three central concepts were present during the talk: Hinduism, the plantation and creoleness. The researcher stated that Hindus in Mauritius often tend to refer to India's Hinduism as a matrix. For example, the use of kalimayes was often deemed to be temporary until real temples are built like in India (but in India, says Claveyrolas, kalimayes are actually widespread in rural areas). He also alluded to the resilience of the caste system in Mauritius and how the Kalapani (black water) is only a problem for the orthodox Brahman group, not for indentured labourers.
In literature about Hinduism in Mauritius, there are several leitmotifs: Mauritius as the center of the world, the land of transit or the relegated island. Paradoxically, the Indo-Mauritian identity is seen as either that of the dispossessed quasi-slaves or of quasi-conquerors and torch-bearers of Indian wisdom (cf Hazareesing).
Politics of exclusion: There is a significant tendency to ignore Mauritian Muslims as belonging to the Indo-Mauritian group (by virtue of the fact that their ancestors also came from India). Mathieu Claveyrolas highlighted that some Muslim saints used to be objects of devotion in Hindu temples (and still are in some temples in India). There is also a tendency to demarcate Tamils from the Hindu Indo-Mauritian community (despite the fact that Tamils are considered as part of the Hindu family in India).
Through processes of "patrimonialisation", the historical plantation operates as a shared legacy. But denial of this phenomenon leads to communalist differentiation. In keeping with this differentiation, modern "patrimonialism" has given rise to differentiated sites such as Aapravasi Ghat and Le Morne.
Comparison Mauritius / Guadeloupe: In Mauritius, the Hindu gods are deemed to be very much present on the territory (e.g. rocks in cane fields as manifestations of the Hindu gods, the Ganga Talao as an offshoot of the sacred Ganges) whereas in Guadeloupe, the gods are only visiting the land when they are evoked during prayers. Some have sought explanation in mythic stories about the gods' pearl necklace which was broken and whose beads were spilled around the globe (including in Mauritius) so that Mauritius is deemed to have been part of India all along. A more down-to earth explanation could be that the demographic proportion of Hindus is different in Mauritius (majority) compared to Guadeloupe (minority) so that there is more perceived legitimacy on the part of Mauritian Hindus to be able to affirm that the Hindu gods reside on the island in a permanent way (process of "enracinement").
Changes in the practice of Hinduism: These mainly occur due to claims that ancestors did something wrong and that the Mauritian Hindus thus need to go back to so-called original practices as in India to be able to reclaim authenticity.
There is also a concurrent process of geographical expansion of Hinduism outside of the plantation from villages to towns, to the rivers and to the seaside. The Maha Shivaratree processions attest to this while preserving a form of competition between various groups from different localities.
The process of "decreolisation": Mauritian Hindus are the products of (1) popular India and (2) the Mauritian plantation (which is a crushing structure that demands adaptation) and thus can be considered as part of the Creole world (insofar as there are hybridisation processes at work). Yet, the discourse favoured by elites privileges a particular view of Hinduism (reclaiming a mythical "authentic" identity) although they contradict the real practices in temples and villages. This mythical discourse participates in the process of "decreolisation" of Hinduism on the island.
Indian diaspora: Hindu Mauritians are not considered as part of the Indian diaspora but the policy of granting PIO/OCI is part of a geopolitical strategy to enhance the influence of India in the world.