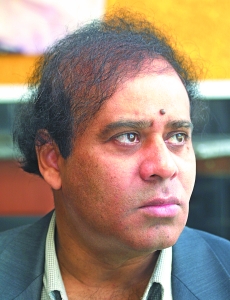 So, after the Facebook – ICTA controversy, Trilock Dwarka, Chairman of the Authority, has admitted that the decision to block access to Facebook completely on Thursday 8th Nov (a black day for the Mauritian online democratic community) was excessive in an interview with L'Express on Tuesday 13th. But, he was shrewd enough to lay the blame completely on his director, Krishna Oolun. One can only wait for the latter's reaction to confront the two versions. Is this the latest manifestation of the 'Chairman vs. Director' pandemic that seems to affect most of our parastatal bodies these days (look at Enterprise Mauritius, NPCC, IBA, MBC, etc.)?
However this did not prevent the guy from trying to find some justifications to the decision by evoking problems such as frauds, cyber-bullying and minors being at risk (Is the PM a minor, BTW, who needs so much protection?). The typical discourse of people who want to control what we read, see and hear… They say they want to protect us, but they are caught more often protecting themselves or their interests or those who can promote/demote them (their temporary Gods on earth)!
Anyway, isn't it funny that the guy says there is a need to have a position paper on social networking? Bet you he did not even know what this means a few months ago. And, for god's sake, will they have position papers on every new platform that gets created on the Internet (and the pace is accelerating; who, in Mauritius, knew about Facebook two years back?). So, let's have a position paper on Hi5, MySpace, Orkut, every single blog and forum, e-mails, chats, newsgroups, YouTube, Yahoo, Flickr, Google, Amazon, and what not. At least, it would keep them busy… Provided they don't end up with a silly campaign like the NCB anti-spam campaign (which did not have spam companies like RKCommunications out of business).
BTW, with Avinash, we were reflecting on how emblematic it is that those organisations get called Authority (IBA, ICTA) carrying this connotation of central control (whereas new media and Internet are the exact opposite). In France, the equivalent of the Independent Broadcasting Authority is the Conseil Supérieur de l'Audiovisuel (CSA) and the equivalent of ICTA is the Commission Nationale Informatique et Liberté (CNIL)… Would the CNIL do a similar (dis)service to Chirac, Sarkozy et tutti quanti? Yes, this is disservice as the response from the Mauritian Facebook Community is more violent than the initial parodic pages of the PM. Just type the name of Navin Rangoolam in the search field of Facebook and you will see what I mean. The groan is growing day by day… Aster la li pu vine vraiment vilain!
And finally, on telecommunications costs: how much time will they continue to take us for fools? When it comes to applying new reductions in tariffs, it takes a month or so to be able to do that for administrative reasons: it takes time to adjust and deploy the new tariffs (aren't they computerised in this so-called cyber island?). But when it comes to raising prices, all operators are suddenly very efficient at deploying the new tariffs over a single day at times.
This is paradise island…