The past week-end has been quite 'cultural' for me as I watched a movie in Caudan Star and attended a concert at the Swami Vivekananda Centre. We had received complimentary tickets for both (lucky week-end indeed, thanks to Khersley & Lindsay)…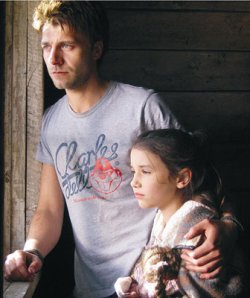 Badland, the movie
This is a quite long film (almost 3 hours) but you don't really see the time pass by as it is very poignant and gripping. The scenario is well constructed, acting is excellent as well as film direction. There are some glitches (like a wound in the girl's hand that appears completely healed in a scene then is shown again with a bloody plaster on it in the next one) but they are very minor.
Overall, it is an excellent film about the traumatic and dramatic results of war on the psyche and life of American soldiers when they come back to the States. Jamie Draven plays the role of Jerry, an American soldier who has tremendous difficulties to adjust to normal life again. To make matters worse, his wife thinks he is an a**hole, they live in a sordid home and environment with three children and a fourth one is in the womb. Jerry commits something tragic (can't say what… would be a spoiler) and as a consequence, engages in a drama-laden trip in his homeland with a constant refusal to accept full redemption leading to a tragic end for the only thing that could have saved him from himself (can't say what again;-)
The penultimate flash scene could have been removed as it unrealistically questions the whole story's existence. Whereas the whole film could shock audiences, that scene tries to come back on that jolt like they were not so sure about going the full length. Anyway, fortunately it was a very short scene which you could choose to ignore…
A word on the audience that night. Apart from me and my sister Liliane, I counted only 20 people in the movie theatre. All those stories about the decline of cinema-going ain't unfounded!!! Badland is a harsh film though…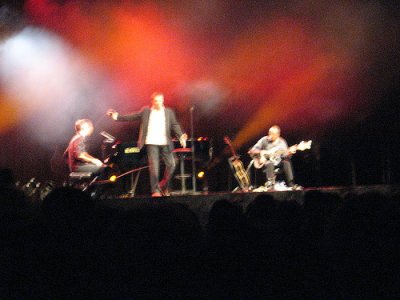 Julien Clerc, the concert
Yeah, me and Avi we attended Julien Clerc's concert! Not really our style of music but it was quite cool actually. The guy definitely has a good voice and knows how to use it and to get the audience to sing too (on 'Quel Jeu Elle joue'). His lyrics are quite interesting as well, very poetic and the engaged type. Though I can't stand 'Femmes Je vous aime' the other songs like 'Utile', 'Melissa', 'Double Enfance' were enjoyable.
A special word about the two musicians who were incredibly versatile (each one plays at least four different instruments – guitar, bass guitar, flute, synth, piano, melodica, etc.). Julien also played the piano very well (even made a mistake and humbly said 'pardon, pardon' before starting again the song…).
The Centre was actually quite packed though there were a number of places left. The technical setup was well done (some glitches in the filming though).