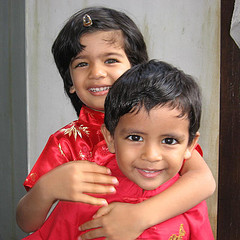 Some time back, Ishtiba posted a question about mixed marriages on her blog.
As I felt personnally concerned by the issue I posted the following comment on her blog:
Avinash comes from a Hindu family (though he is an atheist/agnostic) and I myself come from a mixed background (my dad comes from China and is supposed to be a buddhist and he was forcefully baptised on his arrival in Mauritius but he's basically an atheist; my mum comes from a muslim family but she chose on her own to convert to catholicism as an adult). I myself was raised into catholicism and used to attend mass every sunday until adulthood but now I'm also an atheist/agnostic.

We had a real mixed marriage with both a hindu priest and a catholic one officiating on the same platform with them alternating the use of the microphone; not two separate ceremonies which is usually the case in Mauritius. There was no competition but collaboration and I think that this was already a good starting point. I have heard that many people in fact have two different ceremonies on two different days so that none of the two 'priests' may know that there's another ceremony being performed. How about calling that cheating???

Though all of this mixity appears a bit complicated and could have generated lots of problems, thankfully, this was not the case. And there's a simple word that can explain why: 'HUMANISM'. There's only one race after all: humanity. Religion is just a packaging around humanity. It is a pity that many people stop only at the packaging level and never get through the different layers to the core. Similarly, marriage is just another packaging around the idea of relationship. And whether the marriage is mixed or not is not really the issue as lots of same-religion marriages fail as well (maybe even more). If a mixed marriage fails, I'm almost sure it would have failed anyway even if the two were of the same religion.
I sometimes feel that I may need to write down the story of my family but I never actually sat down to do it. Will probably do it little by little on this blog though…
To start off, I'll just add for the time being that although none of us actually practise any religious rites of our own initiative, we still participate in all family rites and celebrations. We feel involved in all religious ceremonies and festivities, be it Divali, Spring Festival, Assumption, etc. And up to now we have never felt excluded or unwanted by any branch, probably because we are not afraid of actively engaging in the activities, being honest about not being believers but also being non-threatening in our approach to others' convictions which we respect…